Recently the top sources said and revealed a 29% growth in lion's population in Gujarat. The observation undertaken on june 5-6 by forest department. The Gujarat state is now home to 674 lions in total,a rise of 151 lions.https://inspiringinfo.co.in/index.php/2020/07/29/the-birds-finally-entered-the-indian-air-space/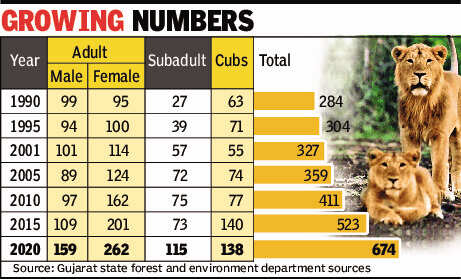 The distribution range has also expanded to 30,000 sq ft from 22,000 sq ft. "Lions have recorded a healthy growth in population due to effective conservation and management efforts by the state government with support from the centre" ,said Rajiv Gupta, additional chief secretary.
PM Narendra Modi had himself intervened to bring a large number of vaccines from the United States for treatment of CDV(Canine Distemper Virus), the outbreak which had happened in 2018 which has successfully wiped off the outbreak.Sources said that the state now has 159 male and 262 female lions with a healthy female to male ratio of 1.64. This 29% growth in lion's population in Gujarat has made a positive news in wildlife.
https://heatherielove.in/netflix-vs-amazon-prime-video-vs-hotstar/